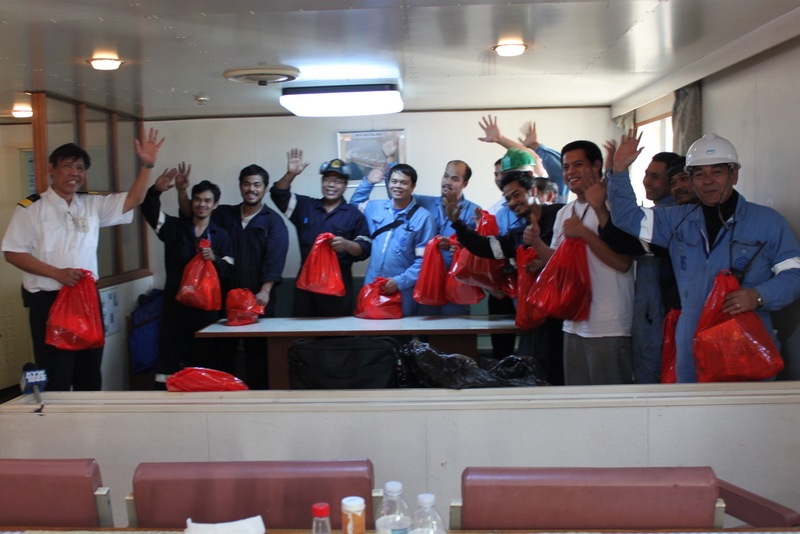 VOLUNTEER
There are many ways you can volunteer for our organization.
A recent note from one of our volunteers:
It gives me great satisfaction that something I do can bring so me much comfort and ease to another, especially someone in possible distress. I also try to "talk up" the SCI whenever I can. Several times when I have been getting groceries at the various markets, women in line, cashiers, have questione

d what was I doing with all of the groceries. "Was I having a party?" "Was I making soup?" "You've got to be doing something with all that food!" "How many lasagnas are you making?"  Etc.. I never hesitate to tell them that I volunteer for the SCI that helps to advocate and care for any Merchant Mariners that need assistance in the Philadelphia, South Jersey Ports; in hopes that someone else might consider volunteering as well. I hope something good for the SCI can come out of that.
Ditty Bag Program: SCI needs your help to gather items for Ditty Bags given to our Seafarers in the fall. Learn more about Ditty Bags here.
Ship Visitors: Many volunteers are needed to serve as Ship Visitors. After orientation and training, the volunteer Ship Visitors go to ships that arrive in port and transport seafarers to and from the ships in the SCI vans. The hours vary. Many of our visitors choose the same day or night to serve each week. Weekend volunteers are also needed. The Ship Visitors must have a TWIC card, but arrangements will be made to get those credentials for you.
Knit for Seafarers Help seafarers by knitting or crocheting warm hats and scarves in dark colors.  Use your favorite pattern, or click here for suggestions.
Contact us! Please click here to contact us. We will be glad to talk about each of the positions described above as well as opportunities for groups.
Check out an example of a possible opportunity for a group of volunteers!
Interested in learning more about what we do? Sign up for our E-Newsletter!
MAKE A DONATION
Our donors make possible the work of the Seamen's Church Institute of Philadelphia & South Jersey – a charitable, non-profit organization. All donations are tax-deductible.
Donation by Phone or Mail
SCI Charitable Giving professionals are available now to accept a simple cash or credit card donation, or to help you customize a planned gift that's right for you. Please contact us to make a donation, or if you simply would like to know more about our ministry. We welcome your interest!
Planned Giving
Planning can save you money and fund good work. Talk to a professional estate planner about your desire to Leave a Legacy