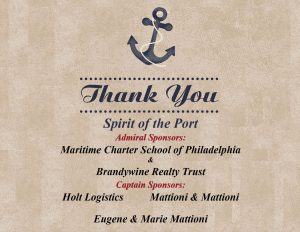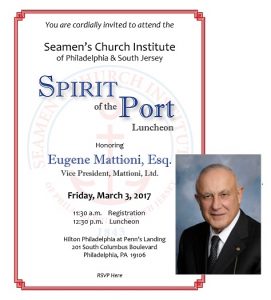 Please join us on March 3rd, 2017 at the Hilton Philadelphia at Penn's Landing
for the 2017 Spirit of the Port Luncheon
honoring
Eugene Mattioni
for sponsorship opportunities or to make a reservation,
contact Christine Polit at
***
LUNCHEON SPONSORSHIP OPPORTUNITIES
Admiral Sponsor:  Up to table of 16 (2 8's), plus 1 seat at event head table​, banner in main hall, listing on website, premier sponsor recognition from the podium, program listing–$4,000
Captain Sponsor:  Up to table of 16 (2 8's), banner in main hall, listing on website, program listing–$3,000
Open Bar Sponsor:  Up to table of 8, banner in main hall, and special signage at opening cocktail hour, program listing–$2,500
First Mate:  Up to table of 8 plus banner in main hall, program listing–$2,000
Table Sponsor:  Up to table of 8, program listing–$1,000
Banner Only:  $250
Individual Ticket:  $125
***
PRESS RELEASE:

JANUARY 17, 2017
PHILADELPHIA, PA ~ SOUTHERN NEW JERSEY
Captain David Cuff of the Pilots' Association for the Bay and River Delaware, incoming Board President of SCI said,  "It is an honor to be presenting Mr. Mattioni with the Spirit of the Port Award.  Mr. Mattioni is not only an accomplished lawyer but also a merchant mariner.  He has served the port of Philadelphia for over 40 years and continues to support the Seamen's Church Institute of Philadelphia and South Jersey. "
Gene holds many honorable appointed posts and has been awarded numerous  times throughout the maritime community.  As his life is deeply rooted in the maritime community, he has also been appointed to the Navigation Commission for the Delaware River and its Navigable Tributaries as well as being recognized in the past as "Person of the Year" by The Ports of Philadelphia Maritime Society (PPMS) , an award recognizing outstanding achievement in the maritime industry.
Gene attended the United States Merchant Marine Academy where he graduated with honors. He is a licensed Master Mariner and was a member of the United States Naval Reserve.  After graduating the USMMA, he attended Georgetown Law School, joined Mattioni, Ltd., and became a partner along with his brothers, Dante, Blasco, Faustino and John. The firm engages in many legal disciplines including substantial work in admiralty and maritime matters. Gene has practiced law for over 40 years.
Gene has tirelessly supported the maritime community and his alma mater for many years. He was the recipient of the USMMA Meritorious Alumni Service and Outstanding Professional Achievement Awards and was President of the Philadelphia Chapter, USMMA Alumni Association. Gene also served on the Executive Board of the Seaman's Church Institute, and as Vice Chairman of the Chapel of Four Chaplains earning its Bronze Medallion. Gene is a member of the Board of the Maritime Exchange for the Delaware River and Bay and is active in many maritime charities. He is a proud sponsor of the World War II US Merchant Marine and US Navy Armed Guard Memorial.
Gene is also a member of the Justinian Society, Saint Thomas More Society, Maritime Law Association of the United States, and Ports of Philadelphia Maritime Society. He is a founding Member of the Maritime Academy Charter School and currently serves as its Chairman.
Gene is the ninth of ten children and the youngest son of Domenico and Concetta Maria Mattioni. Gene and his wife Marie sponsor children in Honduras and Guatemala through Children Inc. He has received the Living Faith Award from St. Bridget Parish Catholic Church.
If you would like to come celebrate this event with Eugene, a ceremony will be held on  Friday, March 3, 2017 at the Hilton Philadelphia at Penn's Landing.  For ticket information, please contact Christine Polit at 215-940-9900 ext. 104 or email cpolit@sciphiladelphia.org.  More information about SCI can be found at www.sciphiladelphia.org