Popular at Sea: Talented Chief Cooks Like Jayson Alcantara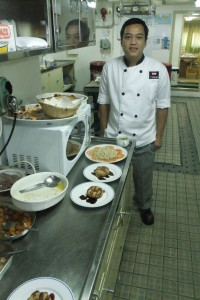 Jayson Alcantara, 30, a father of two, likes to cook and travel. So it's not a surprise that he has found a seafaring career as the chief cook on cargo carriers since 2006.
It helps too that seafaring pays better than most jobs available to Filipinos in their homeland.
Alcantara shared a bit of his life during a shipboard visit made on a cold January day by Chaplain William Rex and volunteer Mark Staples. Rex is assigned to the Seamen's Church Institute of Philadelphia and Southeastern New     Jersey on loan by Seafarers and International House of New York City (SIH).
"I am under contract to serve at sea nine months at a time," Alcantara explains. "When I'm home I work buying and selling automobiles and motorcycles and basketball jerseys," he says with a smile, "but that work does not pay me as well." (Able bodied seamen earn about $1,200 a month at sea. Higher-ranking crewmembers earn more.)
Alcantara said the hardest part of the seafaring life is being away so much from his wife and two children – daughter Jazzie, 11, and son, Jamir, 3. "Because of the blessing of technology I get to talk with my family every day, and I am grateful for that." Alcantara lives in Laguna, a Manila suburb. His ship, the Torm Anholt, flagged out of Singapore, is better equipped technologically than many vessels that come to the port, making daily family conversations easier
Another seafaring challenge? Imagine cooking in your home while it is moving around. "There was too much rolling on the trip to Philadelphia from Cardiff," Alcantara said. (Cardiff is the most significant commercial port city in Wales.) Seafarers frequently comment about the storm-tossed challenges of trans-Atlantic crossings in winter and the Torm Anholt encountered several storms during its most recent voyage.
A talented chief cook can be a popular member of any shipboard crew. Tasty meals do much to ease the hardship of serving on a ship away from home-cooked meals for nine months or more at a time. He prepares all kinds of Filipino delicacies for the Torm Anholt's 19 seafarers, all of whom hail from the Philippines. (Filipinos comprise 35 to 40 per cent of seafarers visiting Philadelphia.) A favorite meal is roasting a pig over charcoal on the ship's stern when the opportunity arises. But he adds the crew also enjoys well-prepared European fare. An example? Egg plant stuffed with potatoes and beef. While aboard the ship, Rex and Staples enjoy an Alcantara treat – a fresh cinnamon donut covered with chocolate sauce.
Over the years Alcantara has served aboard 10 or 11 ships – bulk carriers like the Torm Anholt and container ships. He has been all over the world, visiting U.S. ports like Philadelphia and New Orleans, and many foreign ports in places like China, Australia and Durban in South Africa.