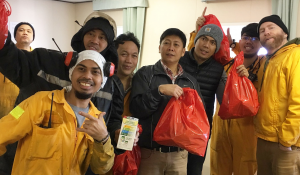 SCI's annual Ditty Bag project involves many people, including but not limited to:
Thousands of seafarers
Dozens of churches, individuals, and businesses
Knitters
Volunteers
SCI staff, chaplains, and ship visitors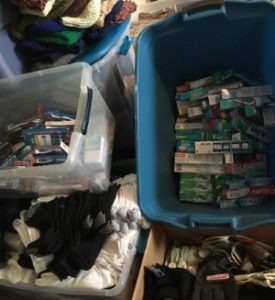 About the Ditty Bag Project
Starting in the early fall, the SCI offices become a maze of bins and boxes filled with toothpaste, shampoo, razors, shaving cream, pens & paper, hard candy, socks, work gloves, and other necessities and treats for seafarers, including hand-knitted hats and scarves that are especially appreciated in the cold North Atlantic.
All these items are donated by churches, individuals, and businesses in our area, and volunteers come together to pack a variety of gifts into drawstring bags, typically seven to ten items per bag.
Seafarers are away from home and family for months at a time, and for many of them the ditty bag will be their only gift during the holidays. More important than the contents of the bag is the welcome gesture of caring from people they have never met. Many people work behind the scenes to make this happen for the seafarers we serve, and we are deeply grateful.
After Thanksgiving, our Chaplains and ship visitors take 20 to 30 ditty bags (depending on the size of the crew) to every vessel that enters our ports. Some Captains distribute the bags to their crews right away, while others put them under the ship's Christmas Tree. And in some instances, others play the role of Santa Claus and go around placing bags outside each seafarer's cabin door on Christmas morning.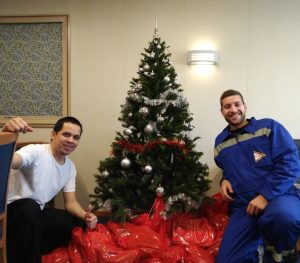 It might seem like a small gesture, but ditty bags are prized and fondly remembered. A long-retired British navigation officer recalls "sitting on the ship in the Caribbean on Christmas Day in No. 10 Uniform whites and a woolly knitted hat courtesy of Seamen's Church." Whether at sea or in a far away port, the ditty bags add a festive touch.