90% of the goods and produce we enjoy come into our area on cargo ships. We reach out to their crews at 30 terminals on both the New Jersey and Pennsylvania side of the Delaware River, serving seafarers of all faiths and nationalities.
Hours: Message to Seafarers
During this challenging pandemic time, while there are few requests for transports and most shopping venues are not open as late as usual, we strive to be available when you need us. We begin our morning shifts flexibly based on the schedule of incoming vessels, and we serve until we have checked in with all ships that arrive before evening. We do not have an evening shift at this time. Call us for service at 215-922-2562.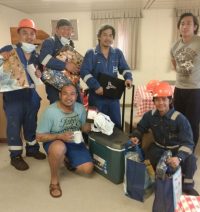 To further help with the individual needs of seafarers, you can send your shopping requests via Facebook Messenger https://www.facebook.com/sciphiladelphia, Screenshots with links work the very best, and shopping orders may be sent at any time,
Be a Volunteer!
Our ship visitors/ host transporters personify our mission of service to seafarers. Whether you are an ordained chaplain or a lay person with people skills, we offer a unique chance to make a difference as a volunteer.
Learn more about volunteer opportunities HERE.
1113 Admiral Peary Way, 2nd Floor
Philadelphia, PA 19112
Phone 215.940.9900
Fax 215.922.0737
Special phone number for seafarers 215-922-2562