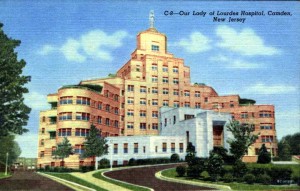 When we get wind of a seafarer in the port with a medical crisis, we pray and hope for the best, but often prepare ourselves for the worst. Recently, we got a phone call that a seafarer was in a hospital over in Camden due to heart problems. We weren't sure who he was, what his condition was or how long his recovery would be, all we knew was that we needed to be there! We got his name from his agent and headed over to Our Lady of Lourdes Hospital to see what we can do.
When we finally made it up to the hospital room, we were grateful to find the seafarer in stable condition. He was an older gentleman from Greece, a representative from the ship's company on board to oversee repairs. He had already been through surgery and was lethargic, but recovering well.
His immediate medical needs were taken care of by the company and the hospital staff, so it became our job to make him as comfortable as possible. He had a phone capable of calling home in his suitcase, so we called several agencies to find out where his luggage ended up and brought it to him. He hadn't brought any exercise clothes, so we went out and bought him a few pairs of sweats so he could do rehab and physical therapy more comfortably. We sent visitors almost every day, always bringing reading material other goodies to try to occupy the many hours in the hospital.
After a few weeks, and the seafarer was strong enough, he was put on a plane back to Greece to continue recovering at home. This story is not one of a major, dramatic SCI intervention where we saved the day. However, we carried out another aspect of our mission that is just as important: making seafarers feel at home. If at the end of the day all we've done is make seafarers feel more comfortable when they're thousands of miles from home, then it has been a successful day. We are grateful for all of our partners that joined us in taking care of this seafarer during his stay with us, and most of all we are so glad that he returned home healthy!