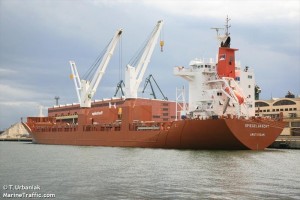 There are times when ship visiting can feel routine and mundane. But there are also days, like today, when you walk down the gangway with a full heart and a smile because of an experience you had on board.
This morning I visited the Spiegelgracht, a ship carrying paper that was coming from Belguim. I hit the timing just right so that I was stationed in the crew mess when everyone came in for their 10 AM coffee break. It was a crew of 16 men: 10 Filipinos, 4 Dutch, 1 Russian and 1 Croatian. I happened to be sitting in the section of the room where the officers take their break and ended up chatting with the Dutch Captain.
He started working on ships as a 16 year-old, when all he was allowed to do was clean the deck. He worked his way up, and now in his fifties, has been a captain for 14 years. He hopes to retire soon, within the next three years. He said that its voyages like the one they just completed, that make him ready to be on land. The ship was coming from Belgium, and usually they make a trip straight across the Atlantic. But because of bad weather they were forced to go down along the coasts of France and Spain, eventually making the turn to cross the Atlantic just south of Portugal. The crew looked tired he said, "Because we only had two days of good weather the whole passage."
The changes in the shipping industry have also affected the Captain's attitude towards his job. Because of advancements in technology, cargoes can be offloaded much more quickly than they could in the past, giving seafarers less time in port. ."It's not fun anymore. It's all rush, rush, rush, all the time." When I visited, he was running off of 4 hours of sleep as the ship had just gotten into port that morning, requiring him to be alert and supervising all the operations required to get the vessel up the river and into a berth.
Exhaustion and stress are common elements of a seafarer's everyday life. When SCI comes on board, we do what we can to make their lives a little better, their days a little brighter. We also provide services that can alleviate stress: religious services on board and transportation to the city. Sometimes a few hours away from the confines of the ship can make all the difference.
Apart from an overall tired crew, I noticed one crew member looking a little nervous, and he couldn't seem to find the coffee mugs. I figured he was a new crew member who had just flown into Philadelphia to come on board. I didn't get the chance to speak to him, but he came back a little later when it was just me, the Chief engineer and the Captain in the mess hall. The company had sent him with some items to be delivered to the captain. He was very nervous to approach the group, and was very formal with his speech, saying, "Thank you, sir" almost every other sentence.
As he left the room, I asked the captain, "New crew member?" and he replied, "Very new. First time with this company. You can tell because he was so nervous, looking around, saying thank you sir, waiting to be dismissed. That will all be gone in a few days, none of it is necessary. There are only 16 of us on board, we are a family, no one is a 'sir' here." It was a touching moment, and I was comforted that I wasn't the only person looking out for the wellbeing of these seafarers. They were also looking out for each other.
            -Trish Johnston, Director of Communications