by Mark A. Staples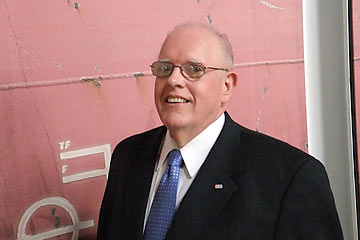 In his daily work as a port manager for shipping agent Norton Lilly International, SCI Board vice president Tom Johnston sees first-hand the needs of seafarers who come to the Port of Philadelphia.
"I'm an agent for vessel owners," Johnston explains in describing his role as port manager and manager for quality assurance for Norton Lilly. "I represent the vessel owners by coordinating vessel activities. I converse with ship captains about problems they may encounter with sick crew members or seafarers who are experiencing personal problems involving family members who are so far away. I try to assist to keep vessel operations going smoothly."
But Johnston explains that concerned agents can't do everything to meet the needs of seafarers, and that is where the Seamen's Church Institute (SCI) comes in.
"SCI plays an increasingly important role in assisting the needs of seafarers," he says. "Seafarers are not affluent. Without SCI they would have restricted access in and out of terminals because of tight post 9/11 security restrictions. SCI is a kind of lifeline. It provides escorted and secure transit in and out of terminals so that seafarers can get a bit of precious time away from their work to relax and do activities like shopping or going to a sporting event. Everyone needs that kind of time. Because of our schedules, agents just don't have the opportunity to assist with seafarer morale in that way."
Johnston explains before 9/11 security restrictions were more relaxed and seafarers could walk across a terminal and perhaps hail a taxi, although taxi trips are more costly than the free escorted transit SCI offers. Johnston notes that shipboard visitors for SCI provide far more than transit. "They offer spiritual support, hear about the concerns seafarers may have for their families back home, and give them an opportunity to vent about issues they may have encountered in a hard life at sea.
"It would be a tragedy if there were no SCI with the services made available to seafarers" he adds. So as a member of the SCI Board he feels that despite challenges facing the ministry he wants to do all he can "to help move the mission of the church forward and stay focused on the needs of seafarers."
He feels the mission focus for SCI has needed to change from year to year as changes have come to the realm of maritime trades.
"It used to be that seafarers came in great numbers to the SCI Center to make phone calls home or send emails," he says. "Now many ships have improved communications technology. Many seafarers have cell phones or laptops, and that means a dramatic decrease in visitors to the center." Shipboard visitors do offer phone cards sold at cost, or cell phones and WIFI units for internet access rented at a modest cost to enhance onboard communications to a crew member's homeland.
"Even though visits to SCI have decreased, SCI's role has not diminished at all. It has become a more mobile ministry," Johnston says.
He explains a challenge the Board faces with limited resources is how to meet what in some ways will be greater demands. "Security requirements are not likely to be lessened, but will probably become more stringent," Johnston says. "In addition, due to economic business pressures, owner-operators will likely be paying less attention to seafarer needs. Improved automation means vessels will spend less time in port with crew sizes reduced. Each seafarer will have to deal in such a climate with increased workloads, operating in what may not be the best conditions." In such conditions, SCI will need to continue what has been an increasing role to advocate for seafarers, intervening on their behalf when problems arise, such as unpaid back wages. Johnston notes that some cargo ships used to spend four or five days, even more, in port, but with advanced technology some container ships are spending less than 24 hours dockside in Philadelphia or New Jersey.
He notes that SCI and other advocates are trying to get access restrictions relaxed for seafarers. Currently there is a 29-day visa limit for seafarers plying in US waters.
The SCI Board is working on a five-year strategic plan to deal with financial challenges. The critical transit service costs SCI about $475,000 a year to run and is needed more than ever, but with reduced visitation by seafarers SCI may not need the scope of its current facilities. "We want to address the financial issues we have and keep the ministry moving forward," Johnston says. "The ministry must be continued, but the activities we are involved in are expensive and revenues and donations have not been increasing. We have to reduce our overhead and make appropriate changes and cuts to keep the future viable."
Part of the challenge also is to educate the public about why it is so important to maintain seafarer morale through the work of SCI. "Seafarer morale is important to all of us," Johnston says. "Much of what we consume comes to us from overseas by water. We are the largest US port for importing bananas and grapes. Because of what seafarers do for us we have fresh fruits on our store shelves 12 months a year. Electronics and clothing also come in great quantities aboard container ships."
The port also exports many kinds of manufactured goods – including steel and coal.
"SCI is an important way of saying thank-you to seafarers who are so far from home and do so much for us," Johnston says.