On March 5, 2020, we will honor Captain Scott E. Anderson, Commander, Coast Guard Central Sector Delaware Bay, at our annual Spirit of the Port luncheon at Auletto's Inn in Almonesson, NJ.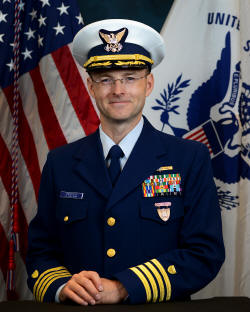 Captain Anderson has served as Commander of the U.S. Coast Guard Sector Delaware Bay and Captain of the Port in Philadelphia since 2017. He oversees more than 750 Active Duty, Reserve, and civilian personnel and works alongside 2,100 Coast Guard Auxiliary volunteers who execute the Coast Guard missions of marine safety, security, and environmental protection across much of Pennsylvania and New Jersey, and all of Delaware, out to 200 miles offshore.
A native of Las Vegas, Captain Anderson is a graduate of the U. S. Coast Guard Academy and holds a Master of Engineering in Naval Architecture and Marine Engineering from the University of Michigan. He began his Coast Guard career aboard the USCGC Polar Star and has served at Marine Safety offices in Houston, New Orleans, and Memphis; and Coast Guard Headquarters in Washington, Lower Mississippi, Upper Mississippi, and St. Lawrence Seaway, before coming to our area as Deputy Sector Commander in 2015 and assuming command of the Delaware Bay sector in June of 2017.
As Sector Commander, he serves as Search and Rescue Mission Coordinator and Officer in Charge of Marine Inspection for the region. He also oversees the region's Federally designated Area Committee for Pollution Prevention and Response, and the Area Maritime Security Committee. Particularly important to SCI's mission, the first Coast Guard Auxiliary volunteer chaplaincy program was developed on his watch.
We honor Captain Anderson for his leadership and for the way he epitomizes the spirit and humanity of our regional port community.
All proceeds from the event support SCI's mission of service to seafarers. You can use the DONATE button at top right on this page to buy tickets; just indicate "Spirit of the Port" on the form, and let us know by email the names of your guests. For more information, contact Cindy Ryan, cryan@sciphiladelphia.org.