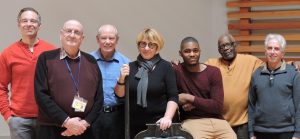 SCI Chaplain David Reid and veteran ship visitor Annie Thomas conducted the first in a series of training sessions for Ship Visitors in February. Ship Vistors play a crucial role in welcoming seafarers to our ports and assuring we respond to their needs.

Like many seafarer service organizations around the world, SCI increasingly relies on volunteers to fill this vital role, and we are committed to making sure we equip them with the skills and information they need to feel comfortable aboard ship and in the port environment.
Classes will continue every two months into the spring of 2018. Anyone wishing to volunteer, or interested in more information, please call Executive Director Helene Pierson at 215-940-9900.