Profile Of A Seafarer
by Mark A. Staples
If you purchased a new Hyundai after the holidays in the Philadelphia region, it could be one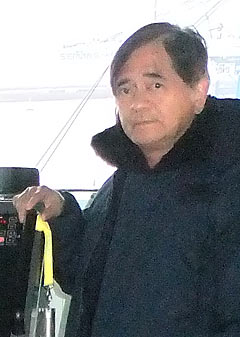 of the 2,000 automobiles whisked off the Morning Christina carrier ship berthed at Packer Avenue Friday, December 16, 2011.
It took 90 drivers just a matter of hours to roll the vehicles off the giant, 12-stories-high ship toward dockside trucks under lead-gray skies. Then it was off to scores of auto dealerships around the region.
And as you drive your new Hyundai, or any other freshly minted car for that matter, ask yourself if you think you have the skills of the licensed Master (captain) who "drove" these cars to Philadelphia where they would eventually be sold.
The captain, Arturo V. Plaza, decided in 1967 the seafaring life was for him after seeing a newspaper ad at his home in metropolitan Manila in the Philippines inviting readers to travel and "see the world for free."
"That sounded good to me," said Plaza with a bit of a smile. Now, more than 44 years later and little more than an hour before it is time to set sail from Philadelphia to Brunswick, GA, Plaza is friendly, relaxed and gracious. He shares a bit of his background with visitors from the Seamen's Church Institute of Philadelphia and South Jersey. Undergoing rigorous training to become a Master as a younger man, the 63-year-old Plaza describes learning how to use a sextant to navigate ships by reading the stars, long before the invention of today's sophisticated navigational devices.
Picture the ship he manages today. Twenty crew members. Twelve decks at least the size each of a football field. Able to carry 6,000 vehicles. Travel points as distant from Philadelphia as Hong Kong. Shaped, as visiting Chaplain Bill Rex describes it, "like a floating brick."
There was the time once, he says matter-of-factly, when the ship under his command was in a bit of a jam. The gyro compass had failed in the English Channel in limited visibility conditions.
"We got to port by using the ship's whistle," he says. "We steered by listening for the echo of the whistle to figure out our distance from land."
What?
As he spoke, his listeners couldn't help noticing the look of admiration on Chief Mate Glenn Amor's face. Amor admits to the visitors his deep respect for his captain.
Plaza next escorts his visitors to the ship's bridge and shows them the advanced equipment aboard the 14-months-old vessel. The visit over, the SCI visitors go ashore, shaking their heads at the recollection of the Captain's modestly related whistle story. We thought, imagine driving a car through thick fog using the horn to keep from colliding with other vehicles on the highway.
What?