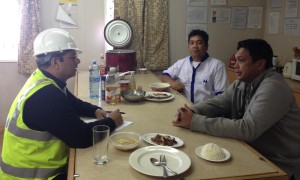 Recently I had my first visit to a ship of mixed cultures and religions. Green Ray was the name of the ship and it docked at a pier just north of our center in Philadelphia. I have been ship visiting for many years, but have mostly come across Christian seafarers. This was a unique visit for me, because the seafarers I met on board were of many faith traditions: Muslim, Atheist and Hindu.
I am a Roman Catholic Priest, I am working as a Chaplain at Seamen's Church Institute and have been appointed by the Archdiocese of Philadelphia to fulfill the pastoral needs of the seafarers.
The seafarers introduced themselves to me by their name, country and religion. The majority were non-Christian. I had conversation with them to find out how I can help them. They were very happy and asked if I would sit and visit with them. I gave them the clothes, books and magazines to read when they have free time.
The whole crew was very nice and they accepted my religious and spiritual care. They offered me lunch and I had lunch with them which was another sign of acceptance and hospitality. Our ministry and service is not only extended to Christians but also to our non-Christian brothers. They are also the Children of God and they need also our love, hospitality and acceptance. Thanks for your ongoing support and prayers for our ministry to seafarers.