Last Wednesday we had a variety of ship visitors out on the port, and two came back with unique stories of how they were able to serve seafarers. Read about our abnormal tasks for the day!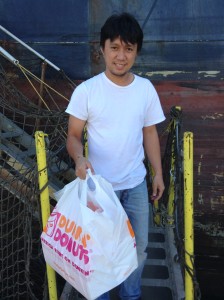 I was slotted to visit two ships this morning, both docked at the Packer Avenue Marine terminal. After having coffee with the crew of the first ship, I headed to the second ship. I've been ship visiting on Wednesdays for a couple months now so I recognized the crew from their previous visits to Philadelphia. As I climbed on board, they informed me they were sailing in just an hours' time. My buddy, the Ukrainian first officer jokingly said, "You're too little too late, we're leaving in an hour – and the next time you come bring donuts!" I thought to myself, one hour, I can do that! So I hurried on over to Dunkin Donuts, but when I got there, I realized I couldn't in good conscience bring one ship donuts, but not the other. So I rushed back with three dozen donuts for each ship (and a donut each for two gate guards and a bus driver). I was greeted by seafarers practically running down the gangway with big smiles and plentiful 'thank yous'. They were grateful for a special treat to start their day off right.
–Annie Thomas
Fr. Stube and I were giving a visitor a tour of the port, and while checking out the operations at Tioga, a seafarer recognized the van and approached us. "Are you from the Seamen's Church? I need to go shopping, is that ok, do you have time?" We didn't have too much going on after the tour, so we said yes, we'll take you where you need to go!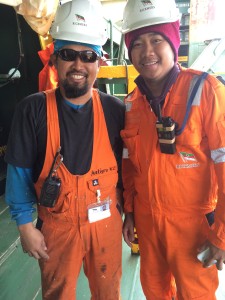 The seafarer had just finished his watch, so he went to go change then joined us in the van. As we started to talk about where he needed to go, we discovered that he had an unusual request: he needed to go to an Oakley store to get the lenses replaced on sunglasses that he had bought in 2007 in South Korea. They were his good work sunglasses, which are an essential item when working out at sea, as there is rarely any shade. The lenses were very scratched, affecting his vision on deck. He had already found the store closest to us, but when he showed us the address, we saw it was in King of Prussia. It was already 3 PM and getting out to King of Prussia and back would have taken too long in rush hour traffic to get everyone where they were supposed to be. With some quick thinking, Fr. Stube, who lives near King of Prussia, said that he would take them home with him, get them fixed at the store, and then return them to the seafarer the next day. With a call to the Oakley store to verify that they could indeed replace the lenses, off Fr. Stube went, sunglasses in hand. The next day, I returned the new repaired sunglasses to the ship, and the seafarer was overjoyed. He put them right on, and was happy to smile for a picture with his like-new shades!
-Trish Johnston
You never know what you're going to get during a day of ship visiting at SCI, and days like these occur more often than you think! But our mission is to help seafarers in our port with whatever they need, and in this case, it was donuts and sunglasses!