SCI celebrated the holiday season by hosting seafarers and members of the community for a special Christmas Service.
Chaplain David Reid, here in the character of Ebeneezer Scrooge, combined entertainment and inspiration to create a message of love and compassion.
The service was followed by a festive dinner and group photograph in our chapel.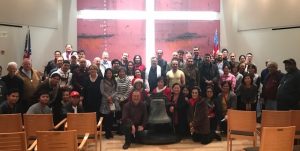 Chaplain Reid closed the service with this prayer –
O God of infinite intelligence, thank you for being the ship that holds us in the sea of life.  Thank you for steering us straight.  Thank you for being the outrigger that supports us in times of trouble.  Let your Spirit be our sail that carries us through each day.  Keep our bodies strong, our hearts open, our minds attuned to your will, so that we can sail steadfastly on, in the long voyage of life.  For this and all things we thank you.  Amen