— Lansdale Lutheran Youth say after touring a ship in the Port of Philadelphia.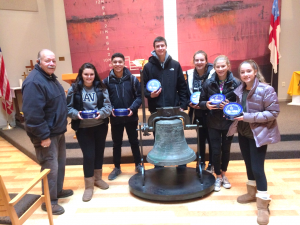 The youth from Trinity Lutheran Church came bearing cookies and warm knit caps for seafarers as part of their Martin Luther King Day of Service. Their tour guides represented Seamen's Church Institute of Southeastern Pennsylvania and New Jersey and Seafarers International House of New York City
One of the youth from Trinity Lutheran Church in Lansdale, PA, visiting ships in the Port of Philadelphia on Martin Luther King Day said, "I learned a lot about where the stuff we buy comes from and how it gets here."
"I was impressed how clean the ship was," another youth said. "I couldn't believe how small the living spaces are for the crew. It must be hard because they have to spend so much time together," a third youthful visitor said.
The six Trinity youth, Katie Keeley, Dillon Scott, Seth Walton, Linsey Gilbert, Molly Hull and Lextyn Juckniewitz, were part of a service hospitality project to say thanks to seafarers. They had made 300 cookies during a sleepover at the church the night before and also came bearing knitted hats made by volunteers to warm the seafarers during the harsh winter.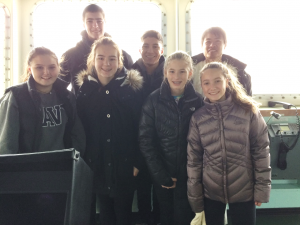 Their guides were the Rev. William Rex, a chaplain on call by Seafarers International House in New York City to serve Port of Philadelphia seafarers through Seamen's Church Institute of Southeastern Pennsylvania and New Jersey (SCI), and his colleague Mark Staples, a certified shipboard visitor for SCI and a Trinity member.
Rex told the youth that on average when he is on call he will drive about 200 miles a day visiting several ships berthed at the 31 terminals comprising the Port of Philadelphia. On the Pennsylvania side of the Delaware River the terminals extend 125 miles from Fairless Hills in Bucks County to Marcus Hook in Chester. On the New Jersey side of the river the terminals extend from Paulsboro to Burlington City. When seafarers have the time and their visas allow, Rex will take crewmembers shopping at stores like Best Buy and Walmart. When shore leaves are not possible Rex will sometimes shop for the crews. Shopping and hospitality kindnesses make a great difference for the seafarers, who are often under contract to be away from home and their families for up to 11 months at a time. An able-bodied seaman makes about $1,200 a month to work aboard ship.
The chaplain explained that highly diverse cargoes are brought to Philadelphia, including Kia automobiles from Korea, grapes from Chile, cocoa beans from Nigeria and the Ivory Coast bound for Pennsylvania chocolatiers, fertilizer, asphalt and steel bound for rolling mills in Pennsylvania. Staples shared his 2013 winter memories of visiting Riverside Terminal in Bucks County during a period when rock salt was in short supply in Pennsylvania and 13 shiploads of the salt were welcomed to the port in one month alone (March). The salt brought to Riverside had been mined in Brazil. About 90 percent of consumer goods from beyond U.S. borders comes to the U.S. by water.
The youth had the good fortune of being able to board the vessel TTM Dragon, a cargo ship flagged in Panama freshly arrived the morning of January 15 to the Balzano Terminal in Camden, NJ after previously discharging two holds of bar steel in the Port of New Haven, CT. They navigated a steep gangway about six stories high in length to board the vessel, a new experience for all of them, and felt first-hand what frigid conditions on deck are like in January.
The crew, comprising 21 Chinese and Taiwanese seafarers, was excited to welcome the youth. Because of tight Homeland Security port provisions in the U.S. ships don't often receive such visitors. And to boot, Linsey Gilbert was able to explain to crewmembers that her grandmother hails from Taiwan. Nice.
The youth watched cranes offload the ship's cargo. Then Third Officer Jianwei Xu gave them a tour of the huge ship from the bridge to the engine room. Cookies and hats were shared with the crew, which featured an exchange with affable Chief Engineer Jeh-Taur Yu. Warm smiles dispelled any language barrier. They learned the Dragon, her holds soon to be empty, would leave for New Orleans the next day where, her holds freshly cleaned and sanitized, would take on a full cargo of grains to be brought to Japan.
After touring the Dragon, the youth traveled to the nearby Gloucester/Holt Terminal where the Antwerp Trader, a cargo ship brimming with bananas was being offloaded. The ship had picked up her U.S.-bound cargo at the Guatemala port of Santo Tomas de Castillo, a busy Central America port from which bananas are frequently exported. The youth couldn't board the Antwerp Trader because of the dockside dangers involved in offloading container after container of fruits by means of a massive dockside crane suspended over the gangway. They watched as flatbed truck rigs pulled alongside the massive ship and the crane deposited a container on each truck. The produce was then driven to a terminal distribution point.
Rex and Staples emphasized that the risks undertaken by seafarers literally make a world of difference. "We're all connected," they told the youth. "We have a truly global economy, and one of the most important gestures we make to the seafarers is simply to say thank-you for what they do for us."
"We learned a lot, and I will never forget this experience," Dillon Scott said, summing up the thoughts of the youth on the way home to Lansdale. The youth concurred they will remember their port experience whenever they go to the store from now on.
Our thanks to Mark Staples for capturing this event so beautifully in words and pictures.