SCI's vans cover more than 100,000 miles each year as they visit numerous ships at over 30 terminals. These miles take us bring us to many unique situations, from which some amazing stories, like the following, emerge.
SCI has been involved with a number of family member reunions lately. The most recent was the story of a brother and sister, Renielon and Lurene. They hadn't seen each other in many years when they found out that Renielo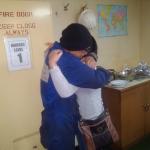 n's ship was docking in Philadelphia. Lurene traveled all the way from New York City to see her brother for a few hours. With help from Dominic of General Steamship, we were able to coordinate a reunion. SCI picked Lurene up from the bus station and took her to the terminal, and dropped her right back off at the bus station when they were done so that she could be home in time for work the next day. They said they had a great visit.
We were also able to help Constantine, a Russian seafarer, meet his 2-month old niece for the first time. Constantine's sister drove down from Connecticut and waited several hours at the gate to see her brother.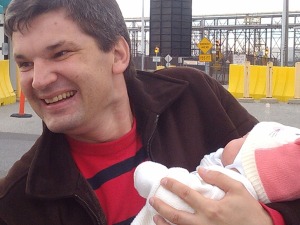 They are the only two siblings in their family and it was their first time together in five years. SCI is grateful for the cooperation of PBF Paulsboro Refinery in helping us facilitate this get together.
Working with family members here in the United States to coordinate reunions is only a part of the work we do here at SCI, but it one of the most rewarding parts. It's clear from the hugs, tears and laughter that these reunions mean so much to a seafarer whose career keeps them apart from loved ones. We love being a part of these moments and are so thankful to the other parties in the maritime industry who help to make them possible. We hope we have many more reunion stories to share with you soon!
Please help SCI continue its mission of bringing people together by making a donation this holiday season. Click the "Donate" link at the top of this page.